Marvel - Legends Series - Full Wave 1 - Ben Reilly - Hammerhead - Spider-Armor mk 1 - Shocker - Symbiote Spidey and Hobgoblin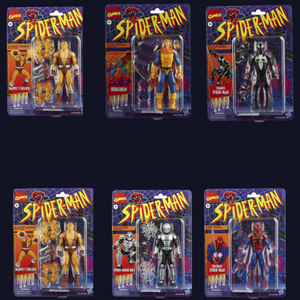 This wave includes:
Shocker
Shocker's vibro-units allow him to blast through solid metal, or hurl long-range vibrational punches! But they've yet to help him defeat his eternal nemesis, the amazing Spider-Man!
Spider-Armor Mk I
When Spider-Man's powers aren't enough, he dons his patented Spider-Armor. This ceramic-metal battlesuit protects Spidey from his deadliest foes, giving him the time he needs to take it to the bad guys!
Hobgoblin
Deploying an eerie arsenal of pumpkin bombs and razor-sharp bats from his goblin glider, the criminal mastermind Hobgoblin has Spider-Man constantly on his guard!
Hammerhead
Hammerhead's skull is reinforced with adamantium, making his head flat on top. All the same, this hard-headed criminal's frequent run-ins with Spider-Man have caused him no shortage of headaches!
Symbiote Spider-Man
Spider-Man gets an all-new look when he finds a sleek black costume in a space shuttle wreck. Little does Spidey realize he's joined himself to the predatory alien symbiote: Venom!
Spider-Man Ben Reilly
After years of self-imposed exile, Spider-Man is back! Now calling himself Ben Reilly, and sporting a brand-new costume and web-shooters, the Wall-Crawler returns to fight crime!
MARCH 2022