TMNT - Ultimates - Full Wave 6! - FREE SHIPPING!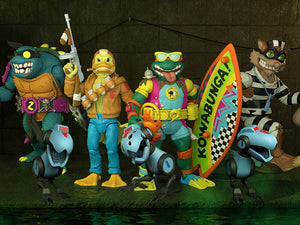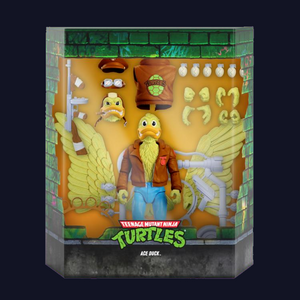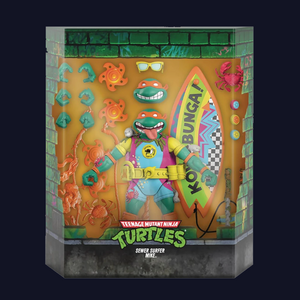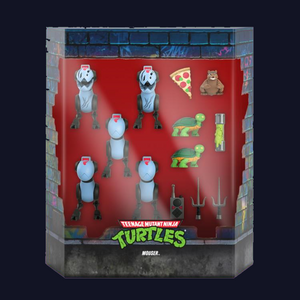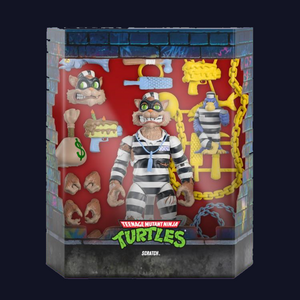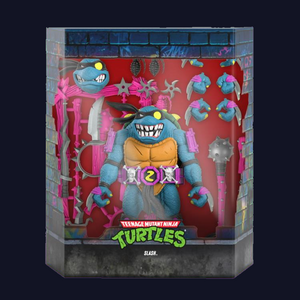 The latest wave of Teenage Mutant Ninja Turtles ULTIMATES! brings you some of the cartoon's most colorful characters. These made-to-order, highly articulated, deluxe action figures stand 7" tall and feature a variety of interchangeable parts and signature accessories!

Wave 6 of the Teenage Mutant Ninja Turtles Ultimates from Super7 helps you relive the fun and excitement of the classic Teenage Mutant Ninja Turtle action figures. These 7" highly-articulated action figure is made-to-order and limited edition. Another perfect addition to your Teenage Mutant Ninja Turtles collection.
PRODUCT FEATURES
7 inches (17.78cm)
Made of plastic
Super articulated
Deluxe packaging 
Includes a set of painted and ready to use weapons as well as an unpainted weapons rack like the original toy line
Based on the vintage Playmates Teenage Mutant Ninja Turtles toy line
BOX CONTENTS
Ace Duck figure

5 Pairs of hands
2 Head sculpts
Wings
Goggles
Hat
Machine gun
6 Grenades
Belt
Weapons runner

Sewer Surfer Mike figure

4 Pairs of hands
2 Head sculpts
Sunglasses
2 Water Flinging' Wheels
2 Nunchucks
3 Turtle waxes
Crab
Surf board
Weapons runner

Scratch figure

4 Pairs of hands
2 Head sculpts
Ball and chain
Hammer
Fish
File
Pistol in cake
Money bag
Jail Bird
Weapons runner

Slash figure

4 Pairs of hands
2 Head sculpts
Dagger
Mace
Sword
Spiked dagger
3 Ninja stars
2 Grenades
Nunchucks
Weapons runner

5 Mouser figures

Mouser remote
2 Turtles
Rat
Ooze canister
Slice of pizza
Pair of sai