TMNT - Ultimates - Slash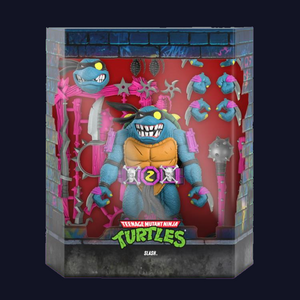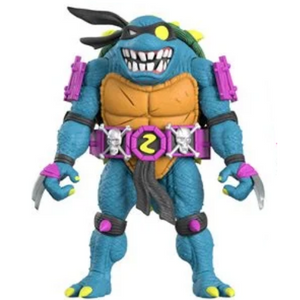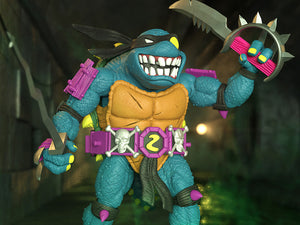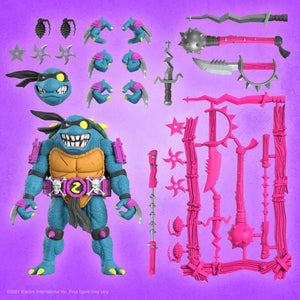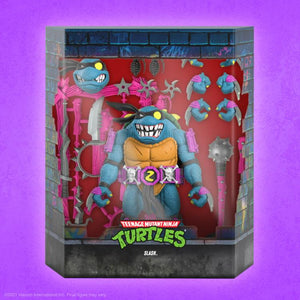 The Evil Turtle from Dimension X! Between his spiky shell, claws, and blade-adorned hands - and not to mention, his bad attitude - it's easy to see how Slash got his name. This 7" scale fully articulated Teenage Mutant Ninja Turtles ULTIMATES! figure of Slash features battle damage and scaly skin detail, as well as interchangeable heads and hands, and a weapon rack chock full of mayhem-making accessories. He may hate pizza, parties, and pranks, but give the guy a chance and add the Teenage Mutant Ninja Turtles ULTIMATES! figure of Slash to your collection anyway! 
The latest wave of Teenage Mutant Ninja Turtles ULTIMATES! brings you some of the cartoon's most colorful characters. These made-to-order, highly articulated, deluxe action figures stand 7" tall and feature a variety of interchangeable parts and signature accessories!
PRODUCT FEATURES
7 inches (17.78cm)
Made of plastic
Super articulated
Deluxe packaging 
Includes a set of painted and ready to use weapons as well as an unpainted weapons rack like the original toy line
Based on the vintage Playmates Teenage Mutant Ninja Turtles toy line
BOX CONTENTS
Slash figure
4 Pairs of hands
2 Head sculpts
Dagger
Mace
Sword
Spiked dagger
3 Ninja stars
2 Grenades
Nunchucks
Weapons runner
*Release Dates are Only Estimates.
Expected release date is 2022 May 31st